Noblessner- A Trendy New Seaside Quarter to Discover in Tallinn
A cool urban environment with magnificent seaside views not to miss while in Tallinn is the former submarine shipyard Noblessner Quarter. One of the fastest developing, and the most interesting areas in Tallinn today.
Situated next to the trendy Kalamaja district and the renowned Seaplane Harbor, Noblessner wins your heart with its distinctive and colorful architecture, boldly combining old and new, retro and modern, bold and minimal. Inspiring style angles and irresistible design can be found in many of the area's shops, restaurants and bars as well.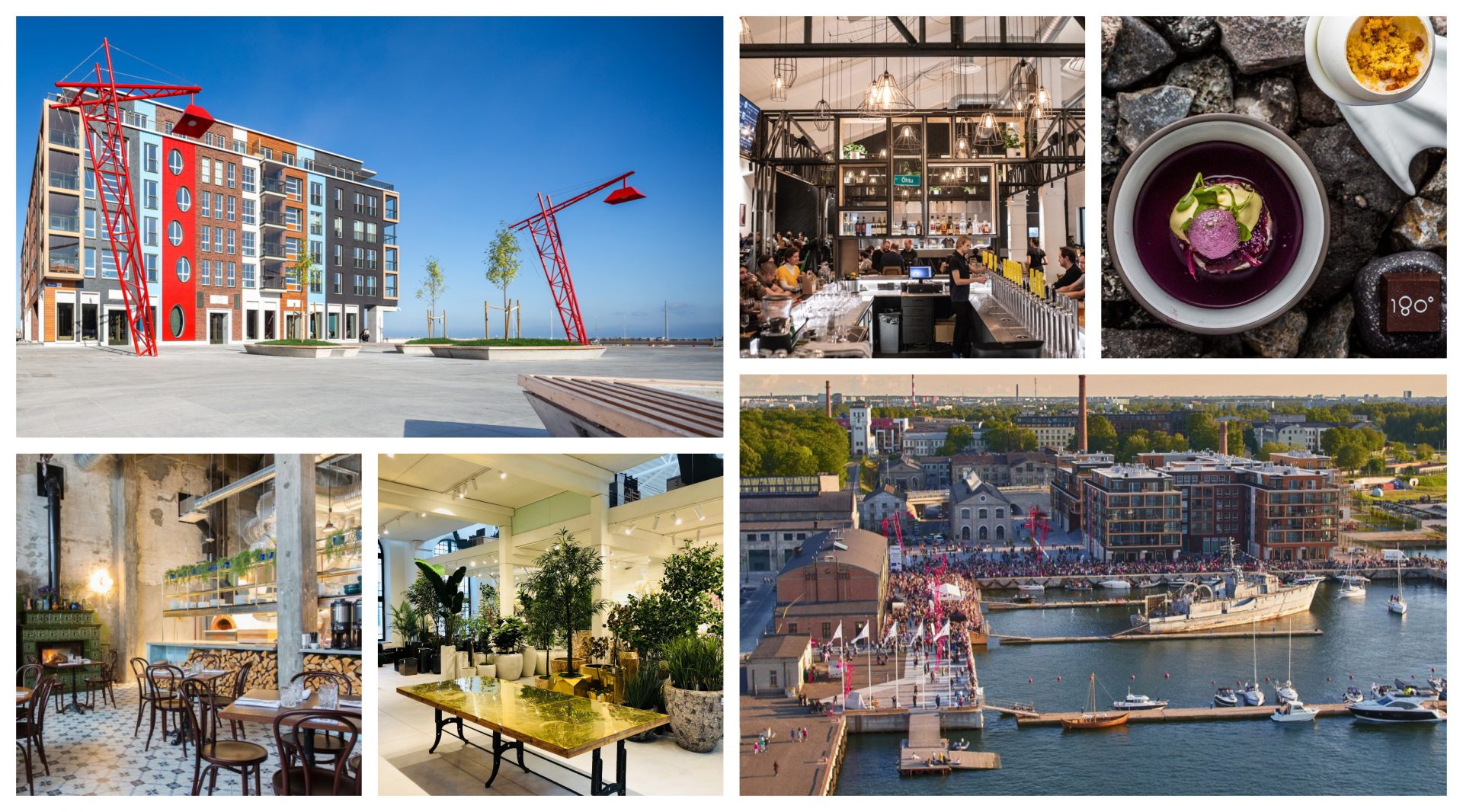 The former submarine shipyard Noblessner is the fastest developing, and thus the most interesting, area in Tallinn today. The old factory halls have been woken to a new life of apartments, trendy shops, and cafes, bistros, art galleries. 
From submarines to the new millennium
The history of Noblessner dates back to the early 20th century. That's when Tallinn – or Reval, as it was called back then – was about to become home to Peter the Great's war harbor. The original plans were never fulfilled, yet a huge submarine shipyard was built in the area now known as Noblessner. The yard was named after the two businessmen running it, Emanuel Nobel and Arthur Lessner. The former was related to the Nobel prize founder Alfred Nobel: Emanuel was his nephew.
Noblessner soon became famous for its submarines built for the needs of the Russian Empire. As Estonia gained independence in 1918, the shipyard started manufacturing smaller vessels instead of submarines. During the Soviet era, 'Factory nr 7' repaired ships damaged in World War II, as well as submarines, fishing boats and metal structures used in ports.
After the restoration of Estonian independence in 1991, the shipyard continued its work for another ten years. Even after that, boats never disappeared from Noblessner; the last vessels were built in 2018. Additionally, Noblessner's Marina and Noblessner Yacht Club Sailing School NYCS have operated in the area since 2009.
Today's Noblessner has risen to its glory during the past few years. It is far from finished, though, so the building and renovation works will continue until the end of the 2020s.
What to do in Noblessner?
Noblessner wins your heart with its distinctive and colorful architecture, boldly combining old and new. Style and design can be found in many of the area's shops as well.
Shishi
 is an Estonian-Norwegian interior decoration brand with an impressive store full of products, each piece more imaginative than the other. Whether you need a vase, a fake plant, a candle holder or something unique to catch the eye, this is where you'll find it. Collections change twice a year, and before Christmas, Shishi becomes a true wonderland of holiday decorations. Shishi is also known for its outlet, located in the same building.
Home furnishing store 
Kalhoj
 focuses on Scandinavian-style tableware and accessories, northern delicacies and beverages and quality children's clothing. In case you're more into diamonds and other fine jewelry, you'll find them nearby at the jewellery shop 
Baltic Brilliant
.
Style and beauty can also be found at the beauty salon 
Biomarketi Ilu- ja Tervisetuba
. The 'beauty and health room' of the health store Biomarket lets you enjoy facials, manicures and pedicures carried out with ecological Dr. Hauschka products. Make-up and make-up lessons are also available.
You won't be left hungry in Noblessner either. 
180°
 is an elegant fine dining restaurant run by Michelin-starred chef Matthias Diether. The restaurant guide White Guide Nordic has quite appropriately ranked it 
one of the top three restaurants in Estonia
.

Põhjala Tap Room
 is a beer lover's heaven. Named among the world's top 100 breweries, Põhjala's restaurant delights its visitors with a whopping selection of 24 tap beers. The food menu consists of Texan BBQ dishes and all kinds of snacks to go with beer. The work of the brewers can be followed through the restaurant's big windows, and if you book your visit in advance, you can tour the brewery with a guide. Beer and other souvenirs, such as T-shirts and caps with Põhjala's logo, can be bought at the brewery's store.
More art will be offered at 
Kai Art Center
. An old factory houses a top quality exhibition space, auditorium, restaurants and facilities for several Estonian art organisations.
PROTO Invention Factory
 is an entertaining yet educational center for the whole family, using virtual reality as a gateway to showcase the great inventions of the past and the things not yet seen. How was the ride with the world's first automobile? What would it be like to have a stroll in the center of the earth? PROTO is the place to find out.
In Noblessner, new shops and services are sprouting up non-stop. This is an area where you'll find something new and exciting with every visit! Book your private Tallinn city tour including the Noblessner area here:
How to get to Noblessner?
The easiest way to get to Noblessner is by bus number 73. Hop in at the city center, ride along Kalaranna Street and hop off at the stop called 'Noblessneri'. Go down the stairs and you're there.
Bus number 3 drives Noblessner-bound from the city center, as well. Hop off at the stop called 'Volta' and you'll find yourself at Tööstuse Street on the south side of the Noblessner area.
You can also take a seaside stroll from the 
Seaplane Harbour
 to Noblessner. On the way, you'll be able to admire the museum's outside exhibits such as the icebreaker Suur Tõll, the walk from old town takes about 20 minutes.