Best Food Markets in Copenhagen
Go nuts in food trucks and fresh groceries
Good, sustainable, organic street food is gaining ground in Copenhagen. You can hang out with your friends or family, satisfy your taste buds and drink a glass of wine in the sun, while listening to live music. Torvehallerne food market halls in city centre are open year round and is the modern luxury edition of a food market with groceries, bakeries, coffee, wine, beer, delis and fast food – most of it organic. You can sit outside or if you are lucky, find a spot inside. Copenhagen Street Food is an entirely different experience, still in city centre, but across the harbour on Papirøen (Paper Island). Here you will experience a genuine and sustainable food truck atmosphere. Then add one of the best views of the city.
Copenhagen Street Food
Copenhagen's first and most popular street food market serves up food from all corners of the world paired with perfect sunsets by the harbour front. In the small food trucks you can get delicious su…
It is not a supermarket – it is a super market. Torvehallerne, that is. Delicacies and fresh produce of the highest quality are what you will find at this market place. You will find over 60 stands…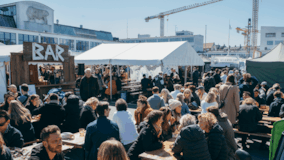 Copenhagen Meatpacking District Food & Market
The food market Kødbyens Mad & Marked is located in Copenhagen's Meatpacking District. The market is packed with food stalls Saturdays and Sundays throughout the summer. The meatpacking district – kn…
Rebel Food
Rebel Food is a caravan of food trucks touring the streets of Copenhagen. Created from the love of food, community and entrepreneurship, the organisers want to bring tasty and diverse dishes from al…
WestMarket
You won't leave hungry from Denmark's biggest food court WestMarket in Vesterbro is the go-to place for all street food lovers, whether it's for freshly baked morning bread, a quick lunch or drinks a…
Verdenshjørnet
Cosmopolitan nomads have conquered the empty grounds at Lygten, close to Nørrebro Station On the border between multicultural Nørrebro and Nordvest, modern Indians have settled down in what can only …
Book your private Copenhagen tour including airport pick-up here:
+372 53 464 060
sales@estonianexperience.com
www.nordicexperience.com
Private tours in Scandinavian Cruise ports with passion!
Follow Nordice Experience on Facebook