Best Bakeries & Candy Stores in Helsinki for the True Foodies
Helsinki has some truly irresistible candy stores and bakeries, which are a must-visit for any True Foodies in town for a day or two.
"Travel is about the gorgeous feeling of teetering in the unknown." – Anthony Bourdain
Here are a few of our favorites! Come on, lent is over, give a new taste, texture and experience ago, life is too short not to. If in doubt, give us a call or send us an e-mail for a local guide to show the way or book your Helsinki tour here: Helsinki Tours
Sweetheart
Sweetheart is a candy store in the Punavuori district that is full of stylishly made and specially selected sweets. In addition to all the lollies, chocolates and seasonal candies, two treats really stand out: the mouthwatering handmade toffees and the huge pastel-coloured marshmallows. We recommend you try the sea salt toffee in particular.
Uudenmaankatu 32
Roobertin Herkku – "Robert's Treats"
This candy store is a dream come true if you love the visual appeal of candies as much as their taste. The large jars and boxes are full of colorful fruit pastels, salty licorice, traditional licorice and chocolates that you can scoop into bags. The salespeople are real candy experts and are happy to recommend some of their specialties, including '90s-style retro caramels and raw chocolate. Roobertin Herkku itself dates back all the way to 1963.
Fredrikinkatu 19
Annan Suklaatehdas – "Anna's Chocolate Factory"
Anna's Chocolate Factory makes exquisite works of art that you can eat. Her chocolate story began in New York in 2002, and she returned to Helsinki almost a decade later. For five years she ran her own chocolate company in the Big Apple having learnt the secrets of chocolate from a Belgian master and French school. Her chocolate factory in Helsinki is the culmination of her passion and expertise.
Merimiehenkatu 23
Kakkugalleria – "The Cake Gallery"
The cake buffet at the Cake Gallery will test how much you really love your cakes! In addition to selling individual cake slices and whole cakes, two of the Cake Gallery outlets also let you eat as much as you possibly can for a little over ten euros. Simply point to the cakes that catch your fancy and you will be served small samples that you can enjoy with tea or coffee. For a couple euros extra you can select cocoa, a special coffee or a soft drink instead. Be sure to try the marble cake!
Several outlets, including Fredrikinkatu 41 and Itis
Kaakaopuu – "Cocoa Tree"
"Cocoa Tree" is a genuine Belgian chocolate store and café in the heart of Helsinki. It mainly sells chocolates by Belgian chocolatiers Leonidas, but its cocoas definitely deserve special mention. They are made from premium Callebaut chocolate and milk, and you even order yours with chilli or honey.
Kamppi Shopping Centre, Urho Kekkosen katu 1A
Brooklyn Cafe & Bakery 
The Brooklyn Cafe & Bakery offers a genuine New York atmosphere on Fredrikinkatu in the Punavuori district. The Brooklyn Cafe opened almost a decade ago and expanded a year later by opening a bakery, as its cupcakes in particular rapidly became a big hit among locals. You can enjoy their treats in the cosy café or place an order from the bakery to bring home with you – perfect for parties.
Brooklyn Cafe, Fredrikinkatu 19
Brooklyn Baking CO., Fredrikinkatu 25
Bakeries
TRAVEL.EAT.REPEAT.
Way Bakery & Wine Bar
Situated next to the Karhupuisto "Bear Park" in Kallio, Way became the most talked-about and highly regarded bakery in town soon after opening. You should definitely try Way's own sourdough breads and fermented potato breads with churned butter, not to mention the seasonal crack buns with hazelnut cream or the blueberry pies! Way's honey caramel glazed cinnamon buns have already achieved iconic status. Breakfast plates are served in the morning, there's a daily lunch menu, and in the evening Way is transformed into a Wine Bar serving natural wines and delicious snacks, including not only fresh breads but also such delights as creamy chicken liver with sea buckthorn and "burnt honey".
Agricolankatu 9
Levain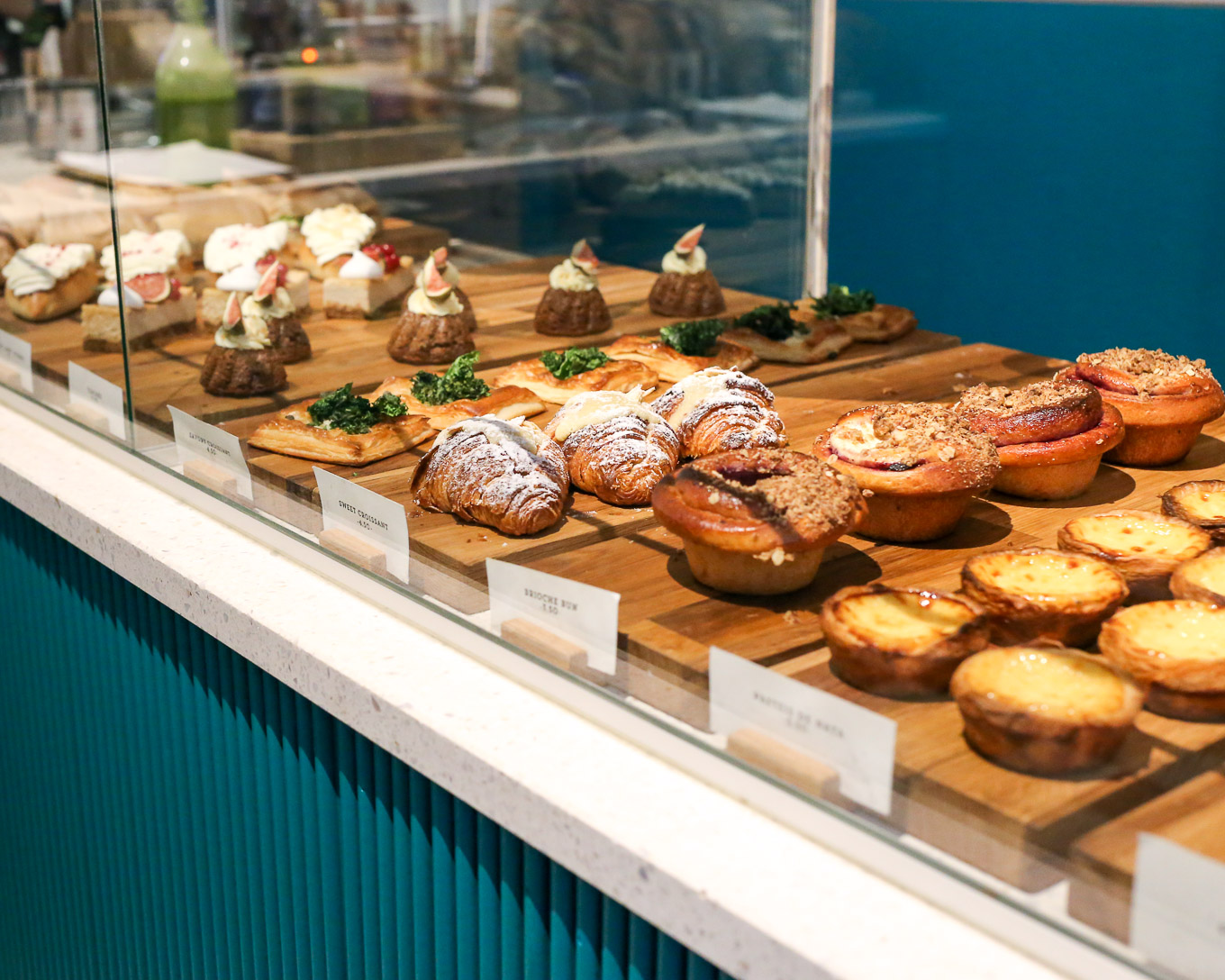 Originally established in Punavuori but now also in Töölö, Levain was a pioneer in the modern bakery boom and is still ahead of the game. Breakfast is served throughout the day, the grilled sandwiches are perfect for takeaway snacks, and in the evening you can relax at one of the tables with a cocktail or glass of wine. Levain boasts five unique sourdough cultures, from a rye bread recipe inherited from Grandma to the modern classic "Levain" sourdough bread, and the stone sole oven is kept hot all day long, so you can get freshly baked bread even in the evening. There is also a wide range of sweet pastries to choose from, and you simply have got to try the pastel de nata Portuguese custard tart – Levain's most talked about product.
Kankurinkatu 6
Runeberginkatu 29
Helsinki Homemade Bakery
Helsinki Homemade Bakery is a small artisan bakery in the Etu-Töölö district whose lovingly baked bread has already established a steady fan base. They also bake fresh baguettes, cinnamon buns and Karelian pasties with a crispy crust that have already achieved cult status. Each day has a special theme: traditional rye on Thursdays, sweet-sour on Fridays, multigrain on Saturdays and archipelago bread on Sundays. On weekends, its fresh handmade croissants sell like hot cakes.
Cygnaeuksenkatu 6
St. George Bakery
The five-star Hotel St. George has a street-front bakery that caters both to hotel guests at breakfast time and anyone else looking for an enjoyable café with freshly baked goods. The bakery's own sourdough bread is baked fresh every day, also on Sundays. To enjoy on the spot, recommended fare includes sandwiches, green smoothies, a variety of coffees, or for instance a matcha latte or glass of wine. In summer months, the parklet terrace offers a view to the Old Church Park and basks in the afternoon sun. You can even pick up a picnic bag to take to the park.
Yrjönkatu 13
Patisserie Teemu & Markus
Patisserie Teemu & Markus – the names refer to Teemu Aura and Markus Hurskainen from the Michelin-starred restaurant Demo – has a café and bakery shop on Yrjönkatu in the city centre, as well as at the new REDI shopping centre. The bread list boasts Emmer sourdough and foccaccia with roasted garlic and herbs, the macarons include Teemu's and Markus's crazy flavours (for example, liquorice and salted caramel; raspberry, tonic water and white chocolate; and oven-baked apple and white chocolate), and they also sell the best Runeberg cakes outside of Porvoo. Try also the cardamom buns with quark and, of course, the stunningly artistic pastries that started it all.
Yrjönkatu 25
REDI, Hermannin rantatie 5
Brooklyn Baking Co.
Founded by two American sisters in the Punavuori district, the Brooklyn Café has expanded into a bakery on Fredrikinkatu. They are especially known for their decorative and rich cupcakes – Red Velvet is an acknowledged classic, but if you really want to go crazy, try the Rocky Road or Salted Toffee Pretzel versions. Their fresh bagels also have a staunch fan base, and you can have them with a wide range of fillings: a poppy seed bagel with tuna and cheese is seriously heavy duty.
Fredrikinkatu 25
Rönttösrouva
This bakery sells Finnish delicacies from Kainuu, including hand-baked, berry-filled lingonberry "Rönttönen" pies and savoury pies with smoked salmon and reindeer, for example. Other traditional treats include "tar bread" and sourdough bread flavoured with berries – not to forget the classic vendace loafs and sandwich cakes. Also worth trying is the "Stadin kokko" loaf – a soft rye and potato pie filled with smoked vendace, vegetables and bacon.
Päivöläntie 24
Konditoria Hopia
Konditoria Hopia is a cosy café that has operated out of the same premises on Hesperiankatu in the Töölö district since 1949, and its Karelian pies have almost iconic status in Helsinki. Hopia bakes fresh Karelian pies daily using the same original recipe that Emma Hopia brought with her from Karelia to Helsinki almost 70 years ago. The log walls, wooden tables and Kalevala-inspired frescos create an authentic atmosphere, or you can visit its newer outlet in the Kumpula district.
Pohjoinen Hesperiankatu 9
Intiankatu 25
And don't forget these:
Väyrysen leipomo
– The Väyrynen bakery at Teurastamo has roots that stretch back all the way to 1908. Its mini donuts are legendary.
Kanniston leipomo
– The Kannisto bakery on Kankurinkatu in Punavuori was founded in 1914 and has since expanded throughout the city.
Gateau
– Fazer's bakery chain offers a wide selection and has lots of café shops around town. In addition to all its classics, try also the apricot-nut bread and pistachio twists.
Kakkugalleria
– The Cake Gallery is famous for its cakes and its untouchable cake buffet.
Kahvila Päijänne
– Café Päijänne sells home-baked fresh cardamom buns, cheesecakes, stuffed focaccia and savoury pies in the Puu-Vallila district.
Tuffen herkku
– Tuffe's Bedouin bread is worth buying from the Hakaniemi Market Hall before the master baker retires.
Green Bake
– The croissants baked by this bakery in Pitäjänmäki deserve special mention.
Contact us for more local tips or to book a private tour in Helsinki.
sales@nordicexperience.com