Wondering what are the best things to buy in Poland and what to bring back home from your trip? There are lots of fun and unique Polish souvenirs to buy or bring as gifts for friends and family from your visit to Gdansk. The list of the best gifts from Poland is countless, so here is our list of top souvenirs to remember your Gdansk experience by.
Amber Jewelry. Also known as the Gold of the North, the Baltic amber is renowned for its beauty worldwide.  In Polish folk medicine, amber was a very popular remedy for various illnesses. The most popular gift is silver jewelry with amber. You will find the largest selection of amber products in Gdańsk. Amber is a tree resin that fossilized over tens of millions of years in the earth, where it matured under high temperature and pressure. Today, amber is extracted from rocks or collected when it is washed up onshore by the sea. Amber is a very soft material and has been used in jewelry, medicine, and perfumery since ancient times. A common classification of amber is according to its origin. Nowadays, there are two main areas where most amber is found: The Baltic region and the Dominican Republic. There are also deposits in other parts of the world, but they are relatively small compared with the ones in those two major regions.
Baltic Amber
This type of natural amber is over 40 million years old and is one of the most valuable. It can be transparent or opaque and occurs in light to dark tones of yellow. The opaque variety of Baltic amber can also be white.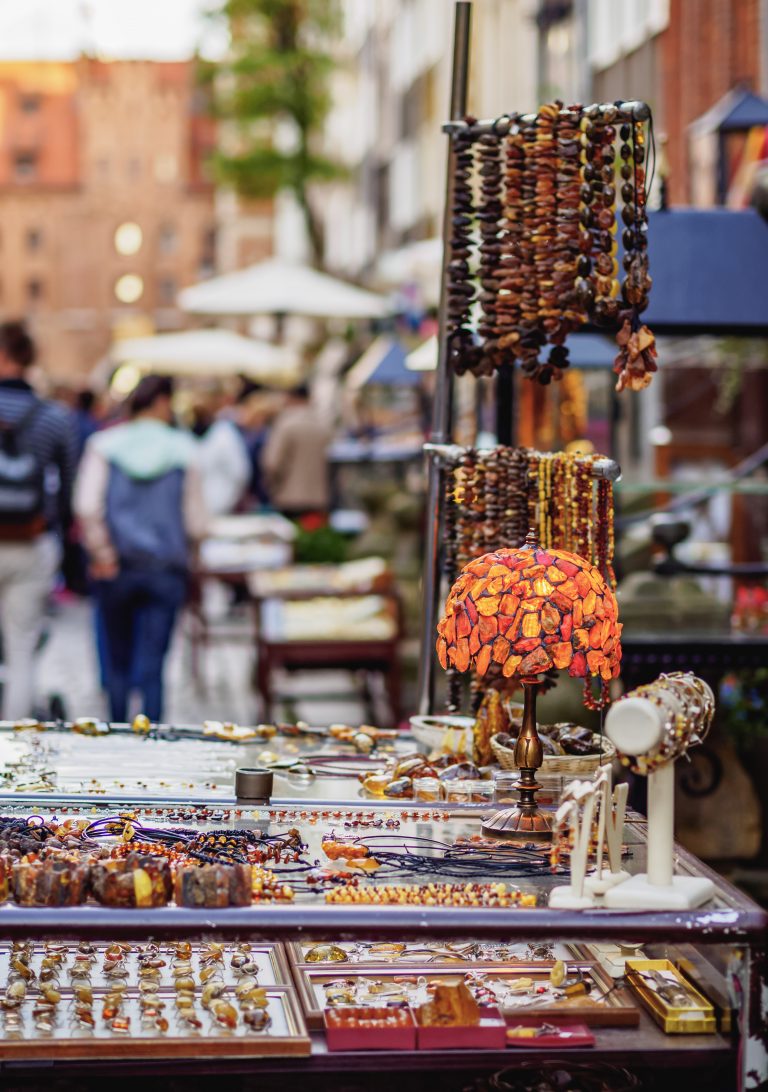 Angels. Everybody needs a guarding angel and the simplest way to obtain one is to buy. The immensely rich and curious world of Polish legends has been captivating people for ages. Hand carved painted folk angels are very popular in Poland, also known for their unique, whimsical style.
Dolls. Traditional Polish Folk dolls are made completely by hand. The dolls are made using techniques that have not changed in generations. Made primarily of paper mache and cloth and certified to meet original folk costume designs. Facial features are hand painted by local artisans. Some of the dolls have additional features like buckets or fences made with natural woods and leather. These dolls are truly unique and representative of Poland's outstanding contribution to Polish folk art and family traditions. 
Linen Products. Natural linen is one of the noblest materials, as it is entirely natural and biodegradable, skin-friendly, and extremely durable. Linen products have accompanied Polish people for centuries, so consider buying beautiful napkins or tablecloth with traditional Polish pattern. 
Beautiful printed linen tablecloth with one of Poland's most popular flower, red poppies.
Ceramics. Bolesławiec ceramics is one of the best souvenirs from Poland you can get and Poland must-buy. It's simply beautiful, and it works well as tableware or kitchen decor. Bolesławiec is a small town located in Lower Silesia. Ceramics have been produced there since the beginning of the 19th century, and still, every product is hand-decorated with characteristic patterns.
Gingerbread. The original gingerbread from Toruń is baked based on a traditional 700-year old recipe. The dough is made by hand from flour, water, milk, honey, and spices in the right proportions. According to legend, the daughter of a Toruń miller, called Katarzyna, was to prepare delicious delicacies for the king's arrival. Bees advised her to add honey to bread and cakes. The baked goods went brilliantly, and the king began to praise Toruń gingerbread throughout Europe. If you try the gingerbread from Toruń, you will understand why they are different from popular gingerbread. You can buy them in the big supermarkets, shops with local food and at the airports.
Polish Sweets. Don't leave Poland without trying their delicious sweets. The must-try is Ptasie Mleczko (bird's milk). It is a vanilla-flavored milk froth covered with milk chocolate. If you like toffee, you will definitely enjoy krówki (fudges), a luxurious, creamy and totally decadent sweet. For hard candy lovers, we recommend kukułki (cuckoos), which are caramels with cocoa filling with a delicate hint of alcohol. 
Oscypek cheese. It is a hard, smoked cheese, prepared from sheep's milk, characteristic of Polish mountains, especially Podhale.You can buy it in almost all touristic places in Poland, during Christmas Markets and regional events. If you are lucky, you can find oscypek at some polish airports. Make sure that you purchase the oscypek from the stand or shop with the certificate as there are many cheaper imitations on the market. Last but not least, it tastes great warm and with a cranberry jam. 
Best way of getting around, is with your private local guide, book one here: Gdansk Private Highlights & Historic Old Town Tour.
For more local tips, contact us or join us on our Gdansk tours!
Private tours in Scandinavian Cruise ports with passion!
Follow Nordic Experience on Facebook