A three-day city guide to Tallinn is all you need for your discoveries to the best of the Estonian capital
We have put together a list of some of the must-see sights, museums, trendy neighborhoods and must-visit cafes for  your next visit to Tallinn. We are here pleased to answer any questions you might have to give your Estonian experience a memorable twist. If a local expert is what you are looking for, book one of our charming and entertaining tour guides to show you around here:
Tallinn Tours 
A top tip: If you plan to use public transport and visit several museums, consider purchasing a 
Tallinn Card
, a sightseeing pass that includes free entry to Tallinn's top museums and free use of public transport. Plus, you don't have to wait in line to buy the tickets! 
Day one: Tallinn's Old Town and Kalamaja
Tallinn's unique medieval 
Old Town
 is the perfect place to start your trip. Divided into the
Lower Town and Upper Town
(the hill of Toompea), the area is quite big yet still compact enough to explore on foot.
You can easily spend an entire day discovering the Old Town, but recommend getting the
best of local legends, intriguing ghost stories, architectural marvels and stunning views
reviewed on a 2-hour
Tallinn Old Town Walking Tour,
which would leave you an afternoon of exploring on your own through the 
colorful wooden houses, bohemian cafés, trendy shops and the impressive Seaplane Harbour museum at Kalamaja.
Did you know? The most exciting maritime museum in Europe is located in the Seaplane Harbor!
About 200 authentic items are on display at the historical seaplane hangar: a submarine called Lembit, a century-old icebreaker Suur Tõll, a seaplane called Short 184, remains of the oldest ship found in Estonia, and much more. There is also cafe MARU and a museum shop. Globe-trotting in a submarine, having your picture taken in a navy uniform, an aquarium, simulators, throwing paper airplanes, a children's corner with drawing tools, building blocks, an authentic sailboat, and an outdoor playground – programmes and materials meant for independent visits are playful and broaden the horizon of children and adults alike.
TOP three things to do in the Old Town
1. Wander around the ancient cobblestone streets. In addition to the impressive medieval defense system, the area's top sights include the only intact Gothic town hall in Northern Europe, the oldest continuously operating pharmacy in Europe (since 1422), numerous churches, viewing platforms and much more. You can just walk around aimlessly, sit in one of the many cute cafés and take in the fairy-tale-like surroundings, or go for a more structured approach and try to check these top sites off your to-see list:
Tallinna Raekoda & Raekoja Plats (Town Hall & Town Hall Square )
Raeapteek (Town Hall Pharmacy)
Katariina käik (St. Catherine's Passage)
Masters' Courtyard
Niguliste Muuseum (St. Nicholas' Church)
Oleviste kirik ja torn (St. Olav's Church and Tower)
Holy Spirit Church
Toompea Castle
Kohtuotsa viewing platform
Cathedral of Saint Mary the Virgin (Dome Church)
St. Alexander Nevsky Cathedral
2. Enjoy the views. Visit one of the numerous viewing platforms on Toompea hill, climb a Gothic church tower, or for a complete medieval immersion, visit some of the ancient defence towers – for example, at the Kiek in de Kök Fortifications Museum, you can not only walk on the town wall from one tower to another, but also explore the fascinating, hidden underground passages. For a guided visit we recommend our Bastion Underground Passages & Tallinn Lower Old Town Private Tour.
Patkuli &  Kohtuotsa viewing platforms
Piiskopi viewing platform
Cathedral of Saint Mary the Virgin (Dome Church's) Tower
Kiek in de Kök Fortifications Museum
Oleviste kirik ja torn (St. Olav's Church and Tower)
Tallinna Raekoja torn (Town Hall Tower)
Tallinn Town Wall: Nunna, Sauna and Kuldjala towers
3. Visit a museum. Tallinn's Old Town is dotted with fascinating museums, such as the Tallinn City Museum, the Great Guild Hall of the Estonian History Museum, the Estonian Museum of Applied Arts and Design, and the KGB prison cells. If you are interested in recent history, go to the Vabamu Museum of Occupations and Freedom on the edge of the Old Town.'
Estonian History Museum – Great Guild Hall
KGB Prison Cells
Vabamu Museum of Occupations and Freedom
Niguliste Muuseum (St. Nicholas' Church)
Kiek in de Kök Fortifications Museum
Estonian Museum of Natural History
Estonian Health Care Museum
How to get to the Old Town?
From the airport: Tram number 4 and bus number 2 take you directly to the city centre, just a five-minute walk from the Old Town.
From the port: The Old Town is located walking distance (15-20 minutes) from the main terminals.
Kalamaja
Located just outside the Old Town, Kalamaja is sure to charm you with its bohemian atmosphere, local vibe and unique ability to make the most out of its industrial heritage.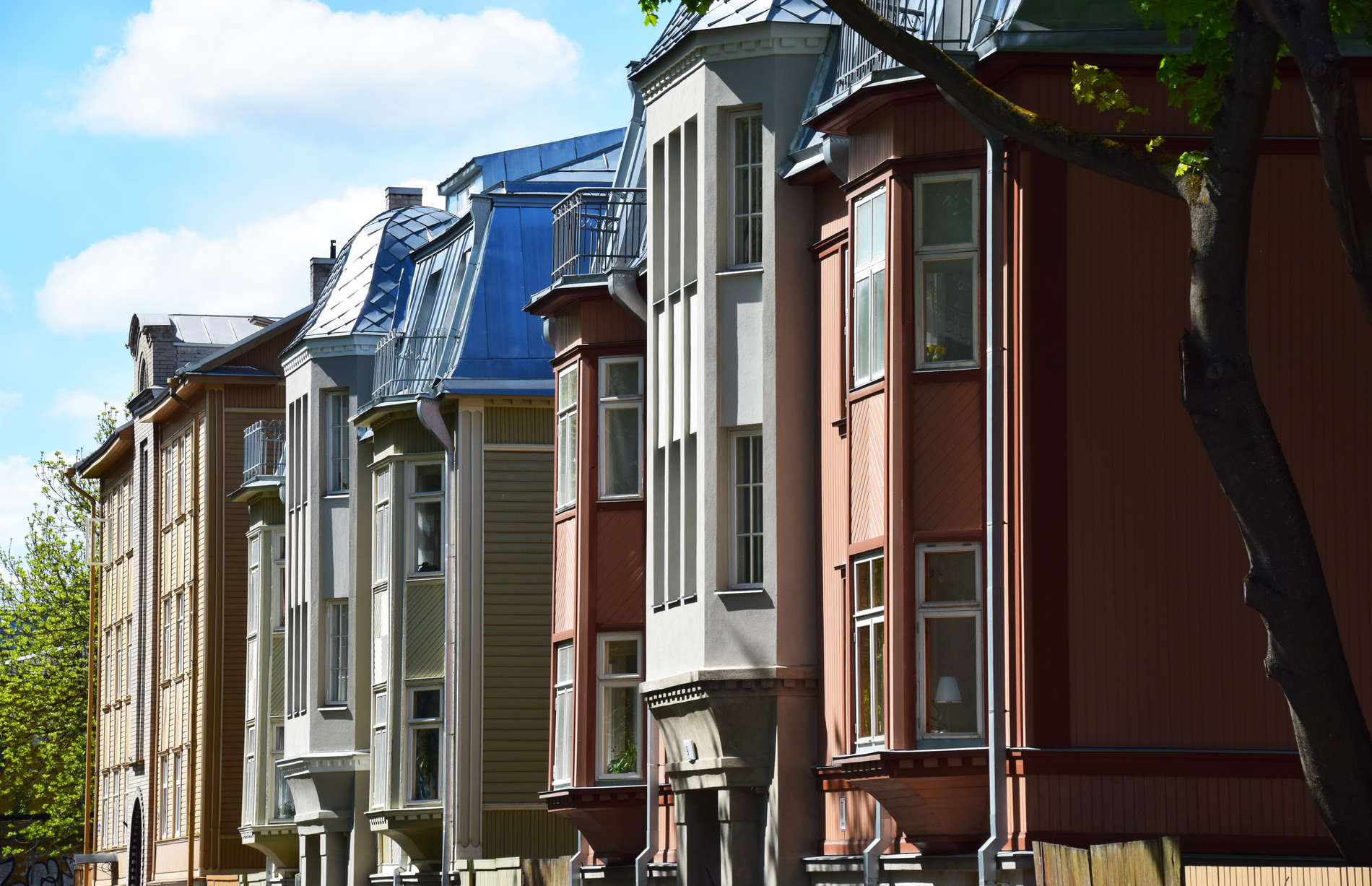 TOP three things to do in Kalamaja
1. Take a stroll around the streets of Kalamaja to see the area's trademark colorful wooden houses. Head to the streets of Valgevase, Kalju, Kungla, Köie, and Niine for the most charming examples. For a break, stop at one of the cafés dotted around the area or stop by the Balti Jaam railway market`s street food court.
2. Enjoy a meal or do a bit of design shopping in the uber cool Telliskivi Creative City. In addition to a large choice of shops, restaurants and street food, Telliskivi is home to some of the trendiest event venues and galleries in town, including the Tallinn branch of the renowned Fotografiska, the Swedish Museum of Photography.
3. Or stop by the Noblessner seafront quarter, the up-and-coming district on the other side of Kalamaja, which counts amongst its residents a restaurant with a Michelin-starred chef, a top-level local craft brewery, an art café, and a beloved Estonian-Norwegian home design brand.
Balti Jaam (Baltic Station) Market
Patarei Prison exhibition area
In addition to the Tap Room, you can visit Põhjala's beer and merchandise shop or join one of the regular tours to the brewery. Tours must be booked in advance and are given in English and Estonian, with Finnish and Russian available upon request.
Founded by four Estonian beer enthusiasts in 2011, the Põhjala Brewery exports its craft beers to more than 30 different countries and has been named among the world's top 100 breweries by the international online beer guide Ratebeer.com.
Day two: Kadriorg and Pirita
Kadriorg
Kadriorg is a green, upscale residential area located just a short tram ride away from the center. Named after the wife of Peter the Great, Catherine I, the neighborhood is home to a baroque palace established by the emperor himself, the city's favorite park and Estonia's best art museums. Book a local private guide for a tour of Kadriorg here:
Tallinn Private Old Town Walking Tour and Kadriorg Park & Pirita
.
TOP three things to do in Kadriorg
1. Do as the locals and enjoy the scenery at the Kadriorg park. In addition to a swan pond, fountains, canals and several different styles of gardens, the 300-year-old park hides many historic buildings. Among them is the 18th-century summer palace established by Peter the Great, now home to an art museum, and the Estonian presidential palace. If you wander a bit further, you will arrive at the Tallinn Song Festival Grounds, home to the Estonian Song and Dance Celebration, which brings together up to 34,000 performers and 200,000 spectators every five years.
2. Visit a museum. In addition to Kadriorg palace, the park is also home to the headquarters of the Art Museum of Estonia – KUMU – which serves both as a national gallery and a center for contemporary arts. The nearby Mikkel Museum displays an interesting array of foreign art and porcelain donated by a private collector, Johannes Mikkel.
3. Discover the neighborhood around Kadriorg park. The surrounding streets are lined with ornate wooden villas – not surprising for an area that was once the first seaside resort of the Russian Empire. If you wish to get a sense of how people used to live in Kadriorg, stop by one of the area's museums of Estonian writers: Anton Hansen-Tammsaare's house from the 1930s or Eduard Vilde's residence in an 1850s villa.
How to get to Kadriorg?
Take tram number 1 or 3 from the city centre to the stop Kadriorg.
Day three: Day Trip from Tallinn to Saaremaa & Muhumaa islands or a day at the Lahemaa National Park
Hiking or walking – whatever your activity of choice, Estonia's nature will take you through beautiful national parks, forests, bogs and along the sea. Breathe some of the purest air in the world and follow in the tracks of fox, rabbits and moose as well as some of the most striking manor complexes and local folklore in Estonia. The following tours are ideal for a day trip from Tallinn.
Tour includes
6h Private tour guide
6h Lahemaa sightseeing tour by car/bus
2- course lunch
Photo stop at Jägala waterfall
Entrance's to Palmse Manor and Käsmu Maritime Museum
This is a perfect alternative of a shorter day trip to discover Lahemaa National Park pearls of Palmse Manor and Käsmu captain´s village with the romantic charm of North Estonian countryside.
2. Day Trip to Muhu & Saaremaa Islands
Tour includes
12h private tour guide
12h private vehicle
Sightseeing tour to Muhu and Saaremaa islands
Entrances to Angle Windmill Park, Kuressaare Castle and Pädaste manor park
Visit to St Katherine´s Church of Muhu
Visit to Kaali Meteorite Crater
Ferry tickets
2-course lunch and beer, local ham, cheese and bread tasting at Angla Windmill Park
Visit to Pädaste Manor Park