Christmas in Copenhagen embodies the concept of hygge where locals and visitors enjoy themselves and some delicious treats surrounded by loved ones and in intimate, cozy settings. Tivoli Gardens, the Christmas markets, and the many quality restaurants serving up traditional, Danish Christmas delicacies are a must-visit when in town for the holidays.
 To really experience Danish Christmas, the best way is to eat and drink your way through it. Danes love their food, and the Nordic cuisine is on everyone's lips these days, so why not add a Christmas twist to it and dig in.
Christmas lunch at Slotskælderen hos Gitte Kik
Christmas lunch in Denmark is traditionally enjoyed at home with the family on the 25th or 26th December. It consists of an enormous gastronomic cold table orgy, which starts in the afternoon and often continues until late at night. At the very least lunch can be expected to last seven hours.
A traditional Christmas Lunch table could consist of herring in a variety of guises, cold marinated salmon, country style liver pate with crispy bacon, confit of duck, roast pork, a selection of cheeses and a special Christmas rice pudding known as ris à l'amande, which is boiled rice swathed in whipped cream and vanilla, mixed with chopped almonds and served cold with a hot cherry sauce. It is all lubricated with Christmas beer and snaps.
If you want to try a Danish Christmas lunch, make a visit to Slotskælderen hos Gitte Kik. Here you will find a broad selection of Christmas lunch dishes. And here it does not have to last seven hours.
Address: Slotskælderen, Fortunstræde 4, 1065 Copenhagen K.
Sushi-sized Christmas lunch at Royal Smushi Café
If Christmas lunch sounds like too much food for you, then Royal Smushi Café has the solution. They serve traditional Christmas "smørrebrød" (open sandwiches) in sushi sizes and call them smushies. They are smaller than traditional open sandwiches, and that way you can try more variations of the Christmas lunch. Royal Smushi Café is located next door to Royal Copenhagen's flagship store, where you can pay a visit to the Royal Copenhagen Christmas Tables exhibition while you are there.
The exhibition is one of the most popular Christmas events in Copenhagen. Every year since 1963, the tables have been set by different Danish artists and celebrities and put on display on the first and second floor of the Royal Copenhagen flagship store. Six tables, each with their wonderful story, provide a creative and inspirational view of Christmas. The artists are free to choose from any of Royal Copenhagen's comprehensive collection of iconic porcelain, sophisticated figurines and historical collectibles. The exhibition is free to visit and open from mid November until the end of December.
Address: Royal Smushi Cafe & Royal Copenhagen, Amagertorv 6, 1160 Copenhagen K.
Mulled wine at Hviids Vinstue
Christmas is the time for "gløgg", a potent variant of mulled wine, served steaming hot and heavily spiced with raisins, almonds, cinnamon sticks and cloves steeped in pure aquavit or snaps. It is just the thing for cheering up a dark and cold day. For Copenhagen's best "gløgg", make your way to Hviids Vinstue. They make theirs from red wine, port, cognac and rum. A white version is also available.
Address: Kongens Nytorv 19, 1050 Copenhagen K.
Rice porridge at Grød
For those sticking to the old Danish Christmas traditions, any Christmas lunch will begin with a bowl of "risengrød", which is a type of hot rice porridge, served with a scoop of butter in the middle and sprinkled with a layer of cinnamon and sugar. Nowadays, most people eat it for dinner, because it is quite filling, during December and on the 23rd December, the eve before Christmas, which is celebrated on the 24th of December in Denmark.
Not many places serve "risengrød", but Grød is the one place in Copenhagen which excels in porridges. You will find the original restaurant in Jægersborggade street, but they also have a stall in Torvehallerne food market halls near Nørreport station.
Address: Grød, Jægersborggade 50, 2200 Copenhagen N.
Christmas cookies at Conditori La Glace
If you have a sweet tooth, a visit to Conditori La Glace is a must, anytime of year. La Glace is the oldest and probably best confectionary in Denmark. Founded in the middle of old historic Copenhagen in 1870, it has delivered joy and quality in its beautiful old rooms through six generations. During Christmas, you can find some of the best Christmas cookies and cakes around, such as "brunkager", "klejner" and traditional marzipan pigs. Everything at La Glace is like a little bite of Christmas.
Address: La Glace, Skoubogade 3, 1158 Copenhagen K.
Christmas beers everywhere
Danish breweries add to the spirit of Christmas in their own inimitable ways. Every first Friday of November horse-drawn Tuborg wagons deliver the annual specially brewed Christmas brew. Almost every Danish brewery now launches a Christmas beer, and any bar, pub and restaurant have Christmas beers on the menu, so just pick one.
Christmas Eve Dinner in Copenhagen
Restaurants that are open on Christmas Eve
Planning to celebrate Christmas in Copenhagen? In case you're looking for a place to have dinner, we have listed a few of the restaurants that were open on the special night where many restaurants take a well-deserved night off.
Von Plessen
The beautiful Hotel Phoenix in Copenhagen's mondaine Bredgade is home to Restaurant Von Plessen which offers their traditional Christmas dinner.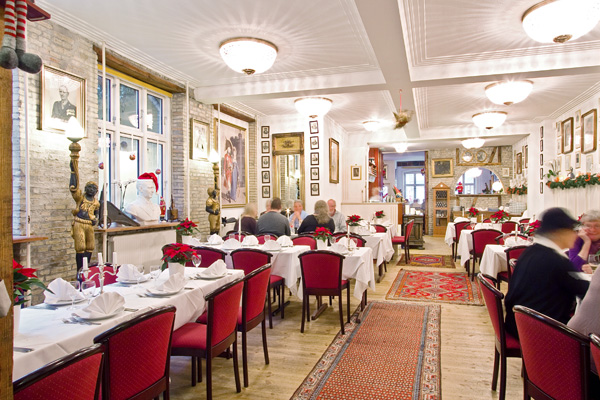 Fru Nimb
For Christmas, Fru Nimb serves a delicious three-course meal with duck and the traditional, Danish Christmas pudding risalamande with cherry sauce.
Restaurant The Harbour
You can celebrate Christmas in beautiful surroundings at Restaurant The Harbour – with delicious food and a stunning view over Copenhagen's harbour.
Tramonto
Italian dining on the top of Carlsberg Byen. Tramonto combines delicious food with a pretty spectacular location. It is located on top of the new Hotel Ottilia.
SALT Bar & Restaurant
On Christmas Eve, SALT cooks up a traditional Christmas dinner served with great wine in cozy surroundings.
Read more about Christmas in Copenhagen.
Come and learn about Danish Christmas traditions and take a guided walk through the beautifully decorated city on our Copenhagen Private Christmas Spirit Walking Tour & Tivoli Gardens.