A beaming morning sun over the charming canals and superb ingredients at hand, there are plenty of delectable breakfasts to be found throughout Amsterdam.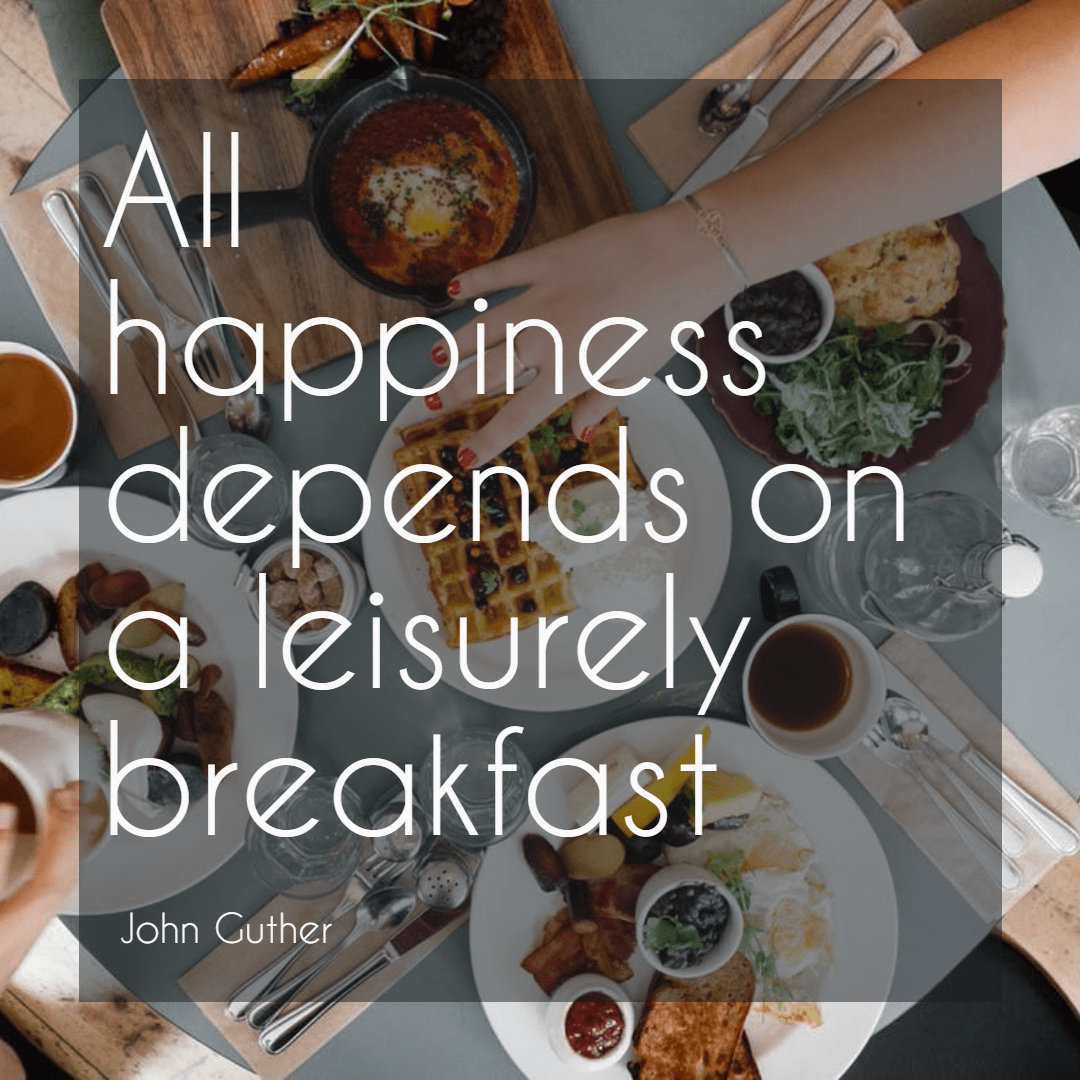 The best places for breakfast and brunch in Amsterdam
In a city where the collective population cycles 2 million kilometers each day, there is no shortage of hearty breakfast options. From bakeries, brunch spots, pancake shops, brasseries and bistros, here are the places you should head to fuel up and start your day in style.
The Breakfast Club
With two locations in Amsterdam West (Bellamystraat & Haarlemmerplein), this hipstery hotspot is the place to go for late, lazy brunches that last all day long (or until 5pm, at least). The menu boasts various city-themed dishes, which means you get a pretty wide selection of breakfast styles, from flapjacks to eggs on toast and from fresh croissants to buckwheat pancakes. Green, orange, brown and pink smoothies are also on the menu. The Breakfast Club // Oud-West & Westerpark
Rum Baba
Sweet-toothed brunchers should head to this friendly cafe in Amsterdam's Oosterpark neighborhood for a delectable range of freshly baked pastries and delicious hot coffee at any time of the day. Pull up a seat and stay as long as you like. And if you become particularly attached to your chair you could even take it home with you – the furniture, books, plants, other home accessories here are all for sale. Rum Baba // Oosterpar
Drovers Dog
Now with three locations in Amsterdam, this Australian inspired eatery is taking over the city one neighborhood at a time. Hungry pups can tuck into of all-day brunches with ricotta pancakes, eggs Benedict, organic muesli and the best flat whites this side of Down Under. Drovers Dog // drovers-dog.com // Oost & Zuid and West
Bakers & Roasters
This cute breakfast and brunch spot in the bohemian neighbourhood of De Pijp describes itself as a 'New-Zealand-style café served with a heavy dose of Brazil'. It's an unusual mix but we like it; and the colourful breakfasts, baked delicacies and fresh fruit salads will certainly put a spring in your Samba ahead of a day exploring Amsterdam. Bakers & Roasters // De Pijp
Sugar & Spice
Best thing about being a grown up? You get to eat cake for breakfast whenever you like. And at this cosy De Wallen bakery you can do just that. The brunch platter offers a tempting selection of all things nice; yoghurt with granola, cake and pastries, served up in kitsch, homely surroundings with friendly service. Sugar & Spice // Centrum
The Pancake Bakery
Beloved by visitors, international students and locals alike, this cosy pancake house inside a 17th century warehouse on Prinsengracht is something of an Amsterdam institution – which explains the queues frequently seen snaking out of the door and along the canal. Visitors can tuck into a choice of more than 100 (huge) sweet and savoury pancakes, and help themselves from generous pots of syrup on the tables. The Pancake Bakery // Centrum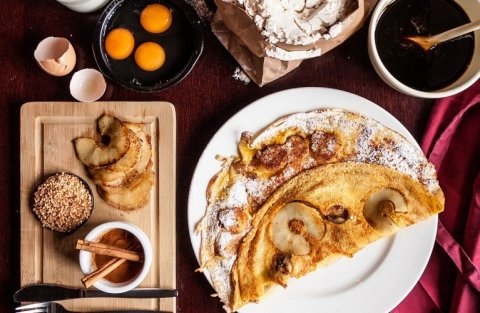 You might also like: Top pancake spots in Amsterdam
Bar Spek
Literally translated as 'bacon bar', this quirky breakfast spot is set on the edge of Amsterdam's newly hip Baarsjes neighbourhood. It's open for lunch and dinner too, but it's well worth the short trip out of the centre for the most important meal of the day. Snag yourself a table on the terrace if the weather's nice and tuck into a selection of cooked breakfasts, pancakes and healthier options. Bar Spek // Oud-West
Scandinavian Embassy
On a leafy block a stone's throw from Sarphatipark, this understated De Pijp breakfast spot is definitely one for the coffee purists; thanks to its Swedish owners' unfaltering commitment to the perfect cup. Head there for award-winning, freshly-brewed coffee and a healthy, Scandinavian influenced breakfast in stylish, Nordic inspired surroundings. Scandinavian Embassy // De Pijp
Anne & Max
Anne and Max are the fictional characters behind this eponymous Amsterdam café, open every day for breakfast, a quick coffee, lunch, high tea and savoury snacks. Every day, you can read the menu boards to see which specials Anne and Max recommend, including the baguette with hummus and avocado, and the revitalising `goedmaken' fruit shake, made with pomegranate, blackberry, apple, strawberry and ginger. The ingredients are, wherever possible, sustainable and homemade. Anne & Max // De Pijp
De Bakkerswinkel
If you stumble across it by accident, you may not even realise that this stylish but humble eatery is actually a much-loved national bakery chain. It has three Amsterdam branches to its name and, more often than not, queues out of the door. Select from tea, coffee or juices to perk you up while you decide whether you fancy a basic breakfast bun with a tasty filling, a slim-line yoghurt-muesli combo or a more elaborate mix of croissant, breads and eggs. De Bakkerswinkel // Westerpark & Centrum
Omelegg
Omelegg pride themselves on being the Netherlands' first "omeletterie". And they're not joking around when it comes to egg cravings, providing their first customers' fix from 7 in the morning. As you would expect from such a specialised place, the menu boasts some rather experimental items – think omelette with dates, currywurst or banana and peanut butter – but purists won't need to abstain from the standard variations, either. While you wait, watch the eggs sizzling with all sorts of fresh ingredients in the open kitchen. Omelegg // De Pijp
Pancakes!
Another Amsterdam institution dedicated to the lovely art of pannenkoeken, this cosy café jwith two central locations serves up a selection of pancakey treats all day long amongst modern Delft print decor and wooden tulips. Choose from fluffy American style pancakes, traditional Dutch, French clafoutis and even Turkish mucver – all with your choice of fillings and toppings. The Dutch don't traditionally eat pancakes for breakfast so you'll need to wait until opening time 10am to get your fix; plenty of time to build up an appetite (you'll need it). Pancakes! // 9 Streets & Centrum
Conservatorium Brasserie
If you're looking to push the breakfast boat out, the bright and airy brasserie at the luxurious Conservatorium hotel in Museumplein makes the ideal spot for an elegant breakfast or brunch in Amsterdam. Located in an internal courtyard with a spectacular glass ceiling and floor to ceiling windows, the brasserie offers a choice of exquisite a la carte breakfast or a modern buffet-style 'ice table'. If you really want to start your day off in style/a bit drunk, the breakfast menu also includes Louis Roederer Champagne by the glass. Conservatorium Brasserie // Oud-Zuid
The Cottage
This cosy little place in Amsterdam Oost serves delicious British comfort food all day long. Start your day (they open at 8:30) with great coffee, fresh scones, homemade jam or a full English – part of their all-day brunch menu. The lunch menu includes delicious pies, sausage rolls and a Sunday roast, plus they have an excellent range of drinks and cocktails, served from a beautiful old bar. The Cottage // Oost
CT Coffee & Coconuts
Like coffee? Like coconuts? Then you'll love this airy De Pijp eatery. Housed inside a former 1920s cinema, the art deco building has been lovingly converted into a hip hangout with stripped back décor and a laid back atmosphere ideal for long, lazy brunches. As well as a regularly updated selection of coffee to accompany your breakfast, visitors can enjoy an entire fresh coconut with a squeeze of lime (and a dash of rum if you like). Breakfast is served until 1pm and includes a healthy range of overnight buckwheat porridge, avocado on toast and delicious coconut pancakes. Coffee & Coconuts // De Pijp
Yoghurt Barn
Get your day off to a healthy start by creating your own perfect yoghurt at this trendy De Pijp breakfast spot. Choose organic, soy or goat milk yoghurt and then add a variety of delicious toppings to it. You can also select one of the fixed yoghurt combinations on the menu, such as the crazy cookie or brownie bango. Feel like having something else? Yoghurt Barn offers frozen yoghurt, yoghurt smoothies and coffee as well. Yoghurt Barn // Oud-West
5&33 at art'otel amsterdam
For brunch with a designer twist, head to the colourful bar and art space at the newly opened art'otel opposite Central Station, for one of their famous Bloody Mary Brunches. Choose from a selection of imaginative egg dishes, sandwiches or larger meals served up with a range of Bloody Mary cocktails – the perfect tonic for the morning-after-the-night-before. 5&33 at art'otel // Amsterdam Centrum
For more local tips, contact us or join us on our Amsterdam tours!

sales@nordicexperience.com
www.nordicexperience.com