Whether you are touring the charming Norwegian capital set by the scenic Oslo fjord DIY- style on your own, or have left the planing to local tour experts to give you a fulfilling grand tour- Gustav Vigeland´s Sculpture Park is a place not to miss.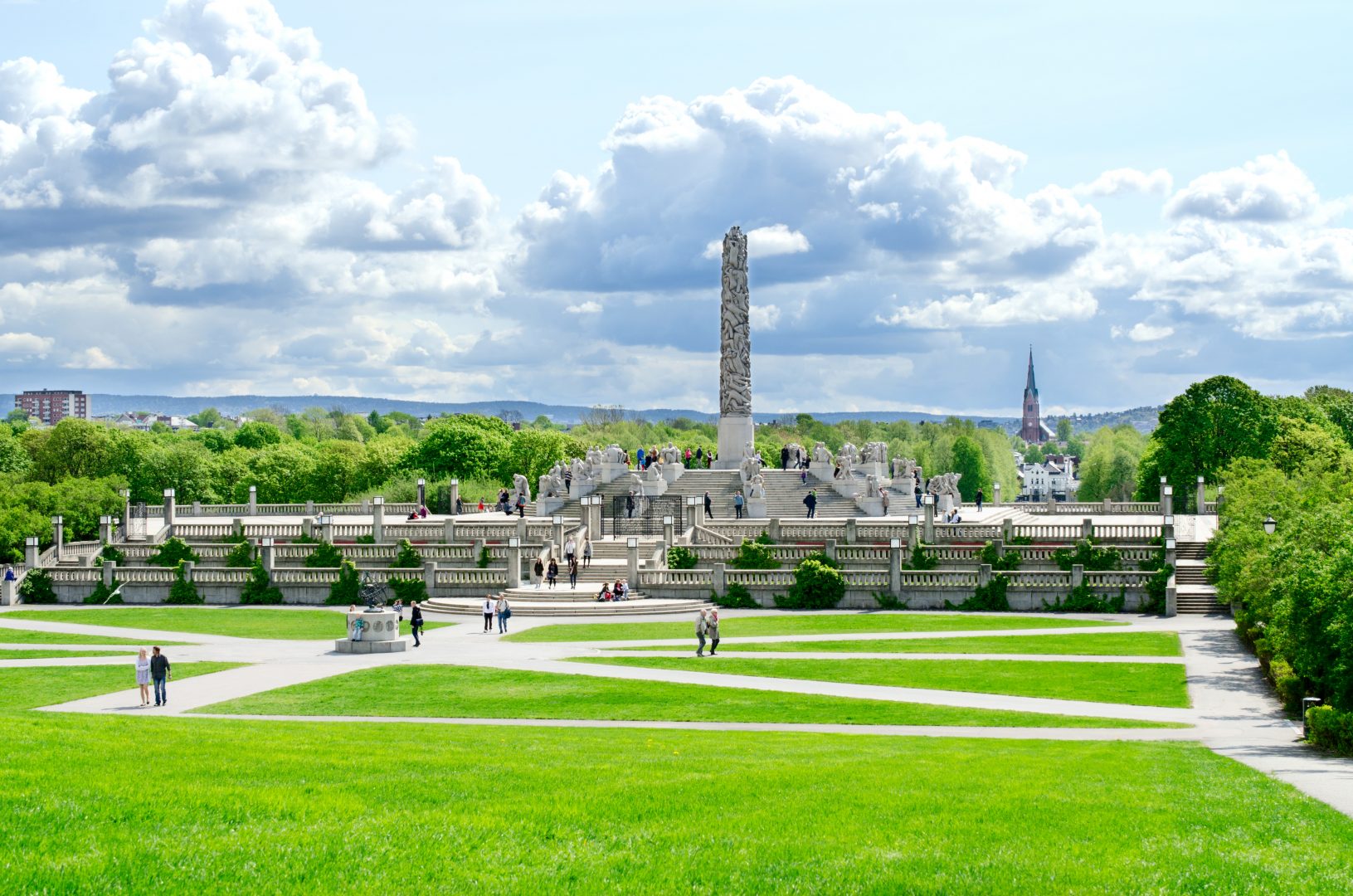 Norwegians have said the Vigeland statues express love, anxiousness, anger and trust — all from stone.
Along with more than 200 granite or bronze human figures set within the 80-acre Frogner Park, Vigeland created also several public monuments across Scandinavia and designed the medal for the Nobel Peace Prize, which is awarded in Norway.
Here is The Washington Post take on this outstanding park with a celestial atmosphere:
In Oslo, Gustav Vigeland's sculptures capture a Norwegian essence
By Alexandra Rockey Fleming October 1, 2015
"…A few years later, during a visit to Norway last summer, I was able to truly appreciate those values. They're reflected in one of the country's most beloved attractions: the Vigeland installation, or Vigelandsanlegget, a collection of more than 200 naked human figures formed from granite or bronze. Set within Oslo's 80-acre Frogner Park, Vigelandsanlegget is a national treasure that attracts more than a million visitors a year. With its palatial lawns and brimming gardens, its fountains and ornate gates, and its outdoor swimming pool, playground and adjacent museum, Frogner is a lush home for the collection.
Naturally, it was our first stop during our week-long visit to Norway (on a typical summer day: overcast with sprinkles). As we entered the park, Julie — now a 21-year-old business student — smiled at the Italian, Japanese and German tour groups and paused to watch a set of parents chase their young daughter around the granite pieces.Detail from sculptor Gustav Vigeland's Frogner Park installation; the nearby Vigeland Museum documents the artist's work process. (Robert B. Fishman/AP Images)
Not so many years ago, she was that little girl. "I grew up playing on these sculptures," she said. "There would be tons of kids playing, and the grown-ups would sit nearby drinking coffee from the cafe."
And as a teenager, "me and my friends would come to hang out. It was great because we could get here by Metro. We'd sit in the grass and try to get some sun. Someone would bring a little barbecue and we'd grill hot dogs. We'd play volleyball and football and Kubb," a popular lawn game.All this activity would revolve around the sculpture collection, part of a vast body of work by Gustav Vigeland, a Norwegian. It was produced, improbably, after a dispute between the artist and the city of Oslo, which wanted to demolish his house. In 1921, the artist received from the city a new building near Frogner Park and, in return, agreed to donate all his subsequent works to the city. Besides a studio, the space included an apartment for him and his family, including a library, bedrooms and a lavatory (a somewhat uncommon feature in those days). Vigeland lived and worked there until his death in 1943.
During those years, which included a period when Norway was occupied by Nazi Germany, the artist — often directing other stone carvers — created the spectacular array that we see today: lifelike forms set in a variety of poses and situations. Some of the figures, which are human scale or slightly larger, are alone, some are in pairs. Still others are in groups or set upon or among natural elements such as trees.
They're walking, running, holding hands, snuggling babies. They're dreaming, problem-solving, chuckling, roaring with rage. They're lovers knitted into an embrace, they're parents comforting children, they're old men torqued by the brittleness of age. Realistically and in the abstract, they depict the breadth of human experience."
If you go on your own:
Address: Nobels Gate 32, Oslo
Experience the best of Oslo on a private guided tour with Vigeland Sculpture Park visit and city sightseeing complete with a stroll through the historical center. For a great guided tour experience of Vigeland Sculpture Park we suggest to book our Oslo Private Panoramic City Tour or Best of Oslo Private Tour with Vigeland Sculpture Park & Viking Ship Museum.
Contact us for more local tips. Oslo with passion!
sales@nordicexperience.com
www.nordicexperience.com