1. Vilnius old town is strikingly beautiful and quaint. We highly recommend spending a few hours wandering the streets after a Private Vilnius Walking Tour letting you in the best kept secrets and legends of Vilnius.
2. The Gediminas Tower is a must see when in Vilnius. The view from the top is amazing, and the history compelling. For a guided visit of the Gediminas Tower we suggest to book our Vilnius Private Old Town Walking Tour with University & Gediminas Tower Visit.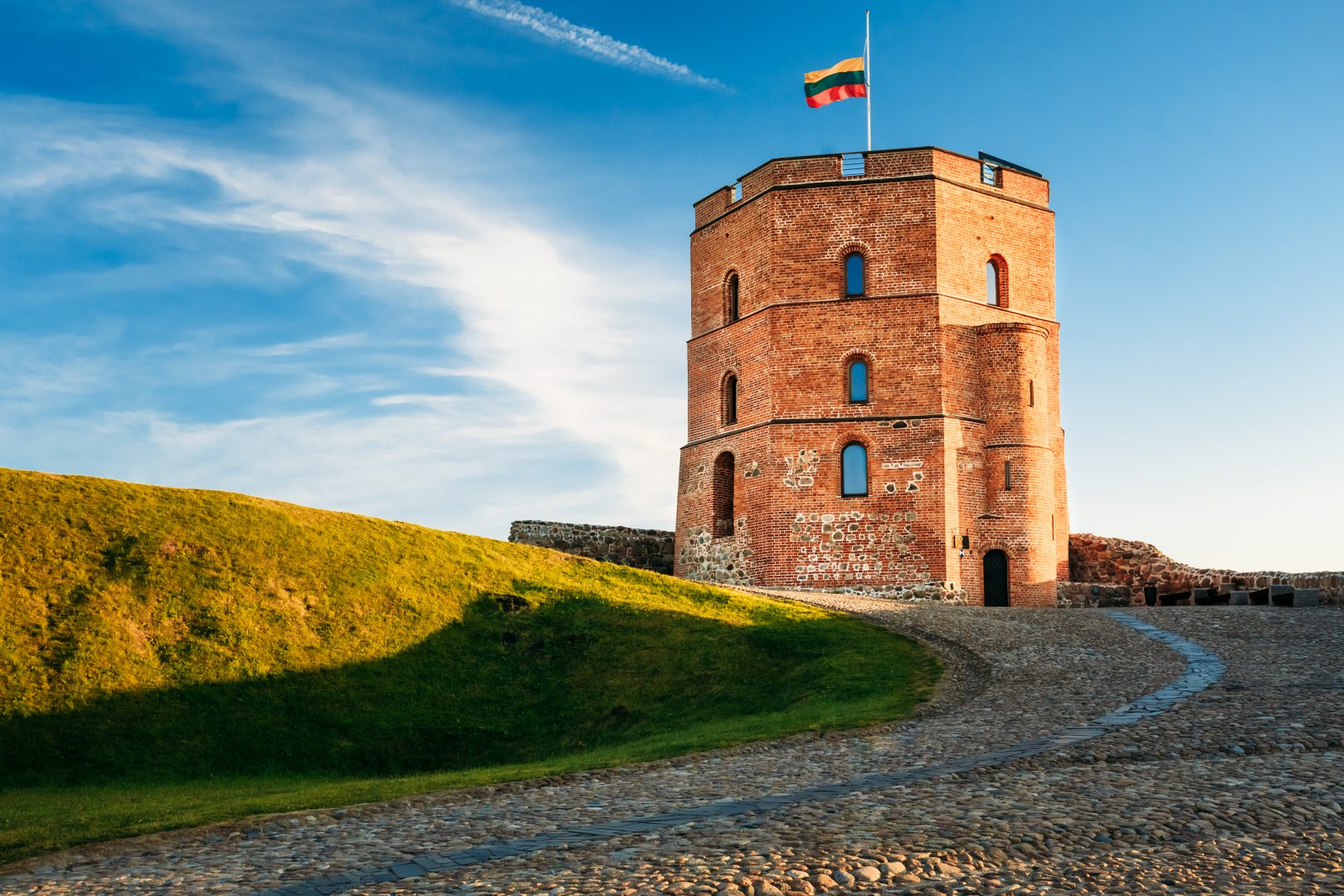 3. Discover the majestic island castle of Trakai. Once strategically important for Grand Duchy of Lithuania, today a beautifully renovated complex best explored on a Day trip to Trakai Castle & Museum.
4. Go church hopping. After all, with 28 churches in the Vilnius Old Town alone, there are more than enough to fill your time– some are abandoned, some boast spectacular interiors, and others find themselves surprisingly bare. Here are a few you don't want to miss:
The Cathedral of St Stanislav and St Vladislav (Vilnius Cathedral) – Undoubtedly one of the most iconic sights of Vilnius.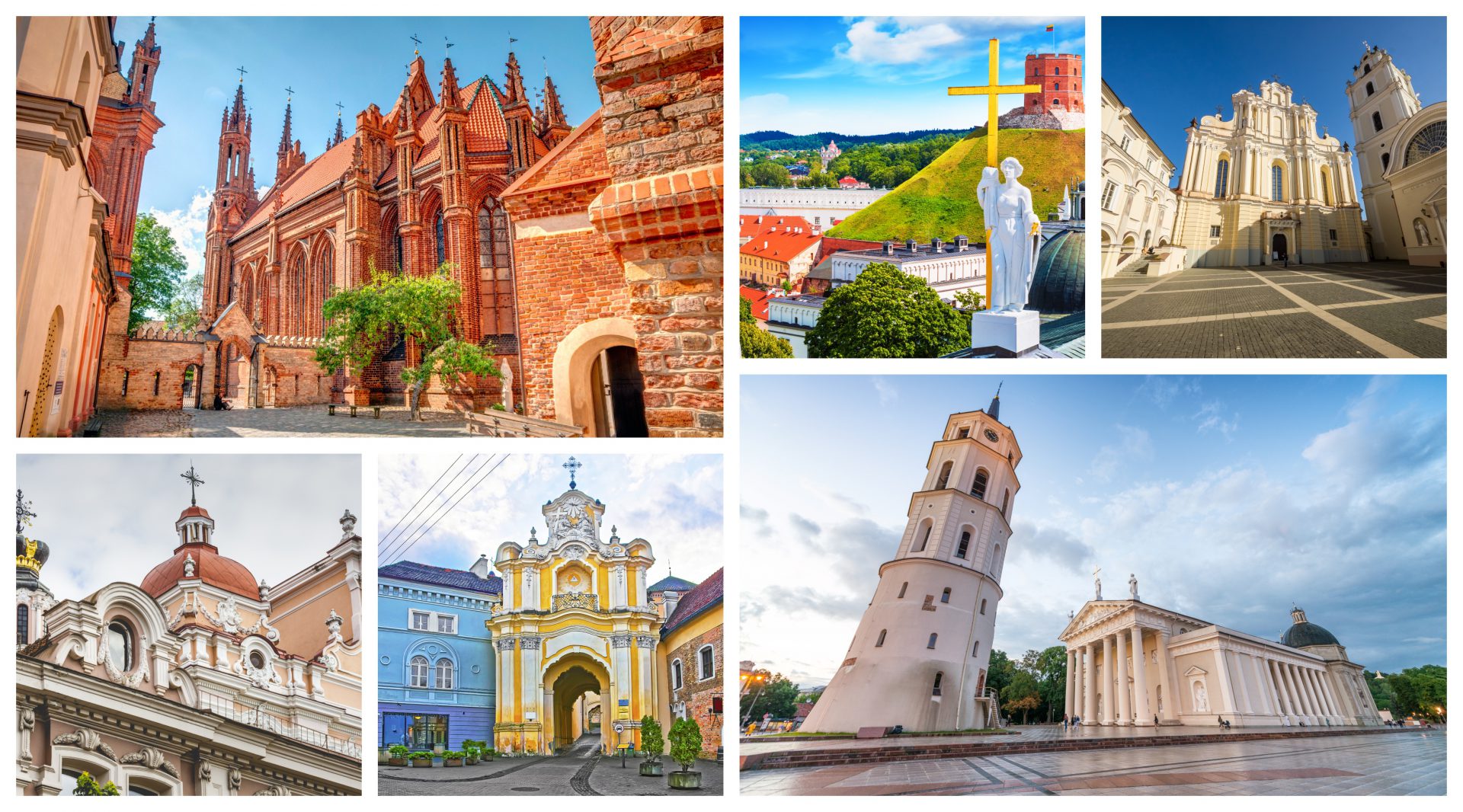 Saint Casimir Church– pretty, pink and perfect.
Saint Ann Church-  a super beautiful Gothic church that seems to glow red in the sun, absolutely spectacular.
The Church of Saint Philip and Saint Jacob – a lovely red church that has the most magical bells chiming.
Our Lady of the Sign Church – a little out of the city center, but really beautiful, and right by the river too which makes for a picturesque walk.
5. The Hill of Three Crosses– a local favorite for catching  sunsets and the perfect place to get up close and personal with one of Vilnius' most important monuments: three lustrous white crosses that stand as a symbol for national identity and resistance to the Soviet occupation.
6. Spin three times and make a wish. In the center of Cathedral Square is where you'll find the Stebuklas Miracle tile, which is said to have wish-granting properties. Spin around three times on the tile and wish away!
7. For the foodies, indulge in the irresistible Bulvinai Blynai (potato pancakes) – grated potato shaped into patties and deep fried to golden perfection… all the better when stuffed with fillings or topped with an amazing sauce.
8. Visit a cool local market. Halės Market is the oldest market in Vilnius, and today is home to a fascinating mix of both traditional vendors selling the usual (produce, baked goods, etc.) and surprisingly hip and inventive stalls moving in to peddle trendy eats. Address: Pylimo g. 58
9. Apparently Vilnius is the cheapest place in Europe to grab a beer and if you have love craft beer, these are the places to go to:
Prohibicije- While small in size, this little haven for beer lovers offers an impressive selection of brews. The vibe is cool and makes you feel like you've stumbled upon a local secret.  Address: Arklių g. 6
Bambalynė– Tucked away in a side street, but for those who find it, it offers up over 100 bottled varieties of Lithuanian beer to choose from. Address: Stikliu g. 7
10. Visit a a quirky republic of Užupis during our Vilnius Private Panoramic Tour. The artsy, bohemian hotspot in Vilnius with is outlandish. Užupis declared themselves an actual republic on April 1, 1997. Like, an actual republic complete with their own anthem, flag, constitution and currency. Of course, they don't take themselves too seriously, and while not officially recognized around the world as its own country, Užupis is a prime example of creatives "really going for it".
For more local tips, contact us or join us on our Vilnius tours!

sales@nordicexperience.com
www.nordicexperience.com
Private tours in Scandinavian Cruise ports with passion!
Follow Nordic Experience on Facebook